The Ultimate 7 Step Guide To Strategic Sourcing
As the business climate becomes more competitive, many professionals are constantly looking for ways to keep costs down while still maintaining the highest quality of goods and services. The pursuit of that involves constantly improving and reevaluating a company's purchasing activities, also known as Strategic Sourcing.
What is Strategic Sourcing?
A strategic sourcing process is a way of ensuring you get the best deal for a product or service by ensuring efficiency across all the steps. It's about saving money, improving supplier performance, and minimizing risk.
Strategic sourcing focuses on the benefits of collaboration. Your strategic partners will help you find new innovative ways to provide your products and services. They expect you to commit to long-term strategic partnerships.
Procurement professionals can successfully source or renegotiate contracts with this process. As a result of following the process, the organization has a solid foundation from which to negotiate with suppliers because the information has been collected and analyzed. It's been tried and tested for sourcing different products and services. Ultimately, this results in savings, more added value from the vendors, and less time spent on a previously time-consuming task.
Step 1: Evaluate Your Spend Category
First, you need to figure out which category or commodities you're sourcing, along with the volumes (quantity, types, and sizes) of products and services, current prices, and specs. You should also involve the end users of the goods or services- who they are, where they are – and departments involved in the supply chain.
Step 2: Supplier Analysis
Perform a market analysis to position the sourcing strategy by understanding your buyer power and categories. Your next step is to figure out what approach suits the type of service you're sourcing.
Procurement needs market analysis so that it can understand how the supply market works, where it's going, how competitive it is, and who the key players are in the market. Through this analysis, buyers can improve the strategy and tendering process, and align their behavior to achieve a better value-for-money, a lower price, and better service.
Step 3: Develop a Strategic Sourcing Strategy
Making the right decision about where and how to buy with the least amount of risk and cost is crucial. You should think about both existing and potential suppliers to get the best deals. Identify your company's goals and the minimum requirements for suppliers, then list the selection criteria that work best for your needs, capabilities, and resources. Make sure to involve key stakeholders in the process.
Step 4: Choose Your Strategic Sourcing Process
Once you have developed a strategic sourcing strategy you need to decide on the formal method you will use for the strategic sourcing process. Most companies at this stage choose to go to a Request for information (RFI), Request for Quotation (RFQ) or a Request for Proposal (RFP).
A request for proposal is a document that asks potential suppliers to submit business proposals as part of a bidding process for the procurement of a commodity, service, or valuable asset by an agency or company
For more information:
What is a Request for information (RFI)?
What is a Request for Quotation (RFQ)?
What is a Request for Proposal (RFP)?
Step 5: Negotiate With Selected Suppliers
You may now have many suppliers responding to your RFP. Shortlist the best suppliers, then interview them for clarification or more details if you need them. It's easier to make an informed decision if you get all the info from each supplier.
It's easier to find the right suppliers when you have a team that knows what you're buying.
Negotiate the best terms (remember its not always about pricing) such as payment terms, rebates etc.
Step 6: Supplier Integration
Strategic sourcing is all about communicating with suppliers. Depending on how the negotiation goes, you may have to decide which suppliers you want to work with. As soon as you have made a list of the successful suppliers who will be participating in the implementation phase, be sure to notify them of that. You should form a closer collaboration and partnership with your business partner the more complex your product is. In order to ensure that the suppliers are up-to-date on the most recent changes and updates, it is extremely important to include them in meetings and discussions during the implementation phase.
Step 7: Measuring Performance & Results
It is a huge mistake to skip this step. In order to ensure the target is being achieved, it is essential to measure the performance of the supplier over time – starting with benchmarking the current state of the product and continuing to monitor the results. As a result, you can identify the problem quickly during the implementation and notify the supplier as early as possible so that they can address it quickly with minimal impact on your business.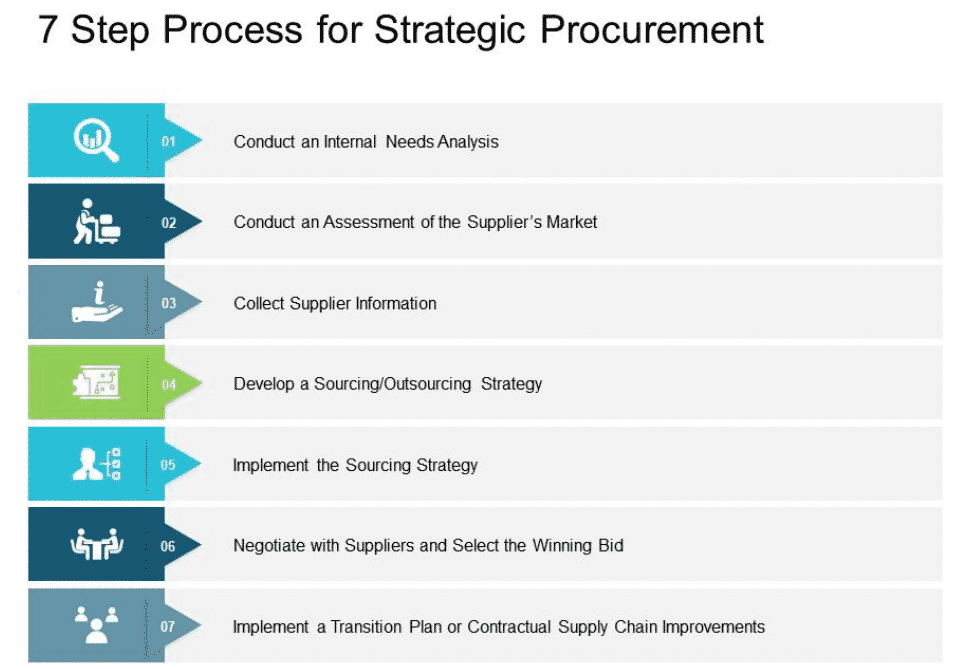 External Resources