The Ultimate Guide To Purchase Orders
What Is A Purchase Order (PO)?
 As a starting point, it would be logical to answer the obvious question, what is a purchase order? In order to purchase products or services, purchase orders (POs) are documents sent from you, as the buyer, to a supplier requesting products or services. It is expected that each purchase order will contain a unique number that can be used to track the order throughout the entire process, as well as the type of item (along with a SKU if needed), quantity, and agreed upon pricing. It goes without saying that orders with more specifics will have more details, but in general, the more information you include in your PO, the more effective it is.  
An example of a purchase order is below. You can also download this purchase order template from here.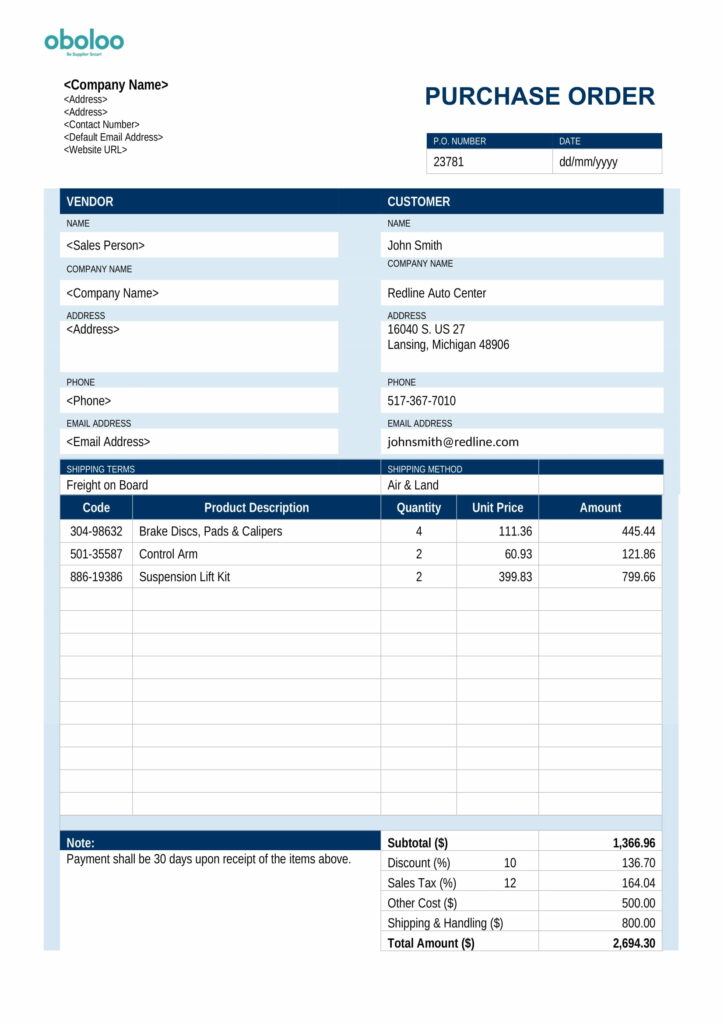 What's The Difference Between Purchase Orders and Invoices?
The purchase orders are created by buyers, and the invoices are created by sellers. An invoice is used as a means of collecting payment when there are specific terms associated with it (net 30, net 60, FOB, etc.) or to record the fact that payment has been received.
The billing address and shipping address are both included on purchase orders and invoices. To ensure that the two documents correspond with one another and are related, invoices reference the purchase order number and include an invoice number. There is a key difference between the invoice and a purchase order in that the order details and other technical details are usually not included.
As well as Purchase Orders, It is important to understand the differences between purchase orders and contracts, the differences between purchase orders and work orders, and the differences between purchase orders and sales orders.
To ensure you get the goods and services you ordered and you only pay once for them, you should track the purchase orders throughout the entire procurement process, both for goods and for services. In the beginning, a business or sole proprietor might track purchase orders in excel while using the purchase order template, or even worse, in duplicate or triple copies. As the number of participants and the volume of POs increase, the number of issues is likely to grow. In addition to tracking all purchase transactions, the PO process will be managed with purchase order software. Implementing best practices for purchase orders, ensuring that a full audit trail is kept for every purchase.
Tracking and reporting on all types of purchase orders is essential for getting full visibility into spend, including blanket purchase orders. It also streamlines the process for reconciling and paying purchase orders. A complete view of the entire process, including a report on open purchase orders, will save time and reduce the risk of missing items when invoicing.
A key part of that larger goal is procurement transformation, which constitutes a key part of digital transformation. Electronic purchase orders will be tracked in an online PO system throughout the entire process. The benefits of digitization can be felt without a dedicated purchasing department.
What Your Business Needs to Know About Purchase Orders
Automating The Purchase Order Process
If your business currently relies on a paper-based system, then there is a high likelihood that you are generating too many documents. Many documents will be processed during the course of the purchasing cycle, which includes requisitions, purchase orders, quotes, order acknowledgements, goods received notes, packing slips, and invoices. If this is the case, then purchase order management needs to be improved.
Paper records, however, are easily damaged, lost, or destroyed, making good record keeping essential for purchasing and procurement. The manual paper-based method will cost you more time and money, searching for duplicate purchases and invoices. A regular filing system is also required for paper-based systems. 
When you automate your purchase order process with a purchase order software, electronic purchase orders and other documents are used to digitize the entire procurement process. There is a centralized system that tracks important documents with an audit trail that tells you who made what changes. To keep track of your vendor information and other details, you can upload other documents to vendors and purchase orders, such as prior contracts, additional terms, and payment schedules.
When order automation is used, everything is stored in one place, making it easier for the accounts payable department to convert orders into invoices for easier payment processing.
Are Purchase Orders A Legal Document?
In order for the seller to receive the PO without confusion, buyers should always communicate requests clearly to them. Since the document is a legally binding contract, the seller remains protected if the buyer refuses to pay. For the buyer to have similar protection it is important to have a purchase order confirmation, or acceptance of the order, tracked.
Maintaining good relationships with your key suppliers will depend on having clear and comprehensive purchase order terms and conditions that cover all relevant scenarios and details such as when purchases can be cancelled.
In order to provide financial assistance to your organization, some commercial lenders will use POs as legal documents; this is called purchase order financing.
When sending a PO to a buyer, ensure that you make it clear how many days the pricing is valid till.
Purchase Requisitions Vs Purchase Orders
Requisition to Purchase Order