What Is Contract Management Software?
This article will detail the benefits of contract management software, what companies it is best suited for, and its main features.
Contract management software is a digital platform designed to be a repository for a company's legal contracts as well as offering functions such as contract creation, contract negotiation, contract e-signature, contract renewal, contract notifications, and visual analysis. A contract management system has many benefits to an organisation, mainly with it being self-service,  user-friendly so that anyone can use it and it is also a single, secure repository where companies can store and view all of their contracts at any time.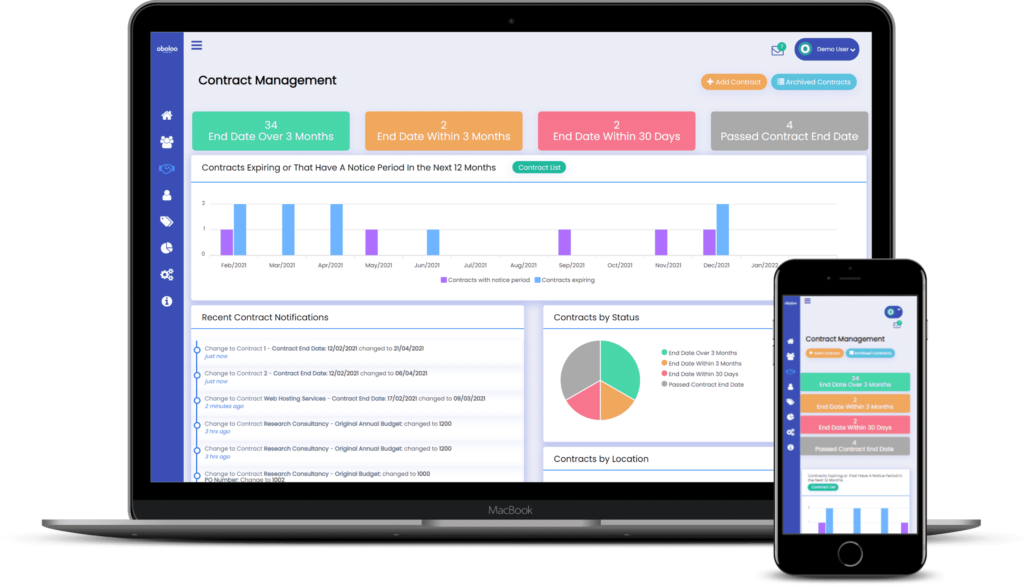 Use the links below to navigate around this article.
Contracts are agreements, usually between two parties that contains a number of obligations or clauses that they agree to throughout the duration of the contract. This acts as a legal agreement in case anything during the supplier relationship goes wrong. The contract is there to look back on to find out which party might be responsible. 
The contract management process was once very manual before the introduction of digital cloud-based contract management software. Companies used to sign a piece of paper that was stored in a filing cabinet without the luxury of a digital copy, resulting in loss of documentation and even employees forgetting key elements of the agreement such as rebates or renewal dates leading to costly oversights. 
More recently, the volume and frequency of contracts are increasing, with most companies offering standardised terms and conditions and having multiple documents per contract agreement.  An enterprise will often manage thousands of contracts meaning that potentially a large number are coming up for renewal each month. The traditional manual contract management process was inefficient to cope with this demand, employees were unable to vet this high volume of contracts on a monthly basis, leading to contract rollovers and less negotiating powers. This is where the digitalisation of contract management comes in, allowing companies to store all of their contracts in one secure place with intelligent automated notifications and therefore removing the burden from Commercial, Procurement or Contract Management teams. 
However, more companies than you would believe are yet to make contracts digital. If you ask a number of these professionals you would hear similar stories of how they used to, and still do follow the traditional process of scan & sign and then storing that contract document in a filing cabinet that will go unnoticed for several years. The contract management process will not change anytime soon, both parties will still need a legal document with a wet signature or an esignature, however, the digitalisation age means that this is managed more efficiently whilst reducing risk and increasing visibility.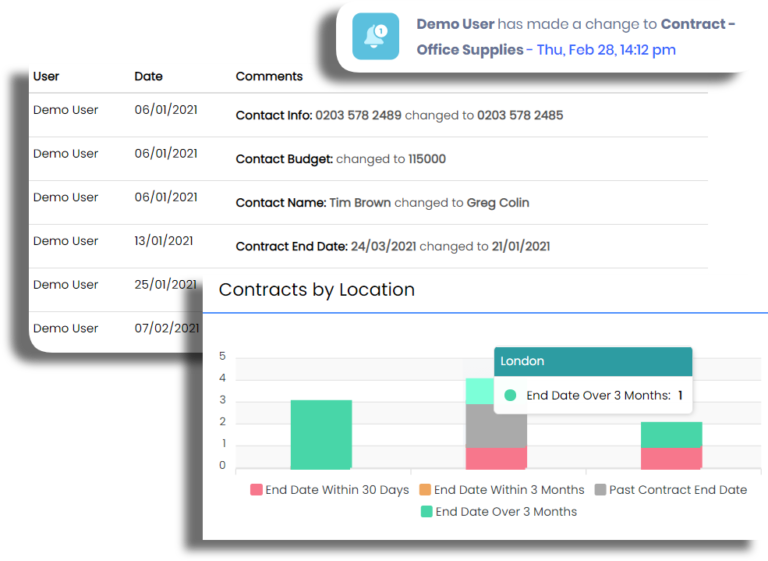 The contract lifecycle process remains the same, whether a business is using a contract lifecycle management system or managing the process manually. The main processes can be found below:
Contract management software allows users to host created contract under one central contract repository. A contract will usually consist of multiple documents such as an NDA, MSA, Offer Letter etc. Contracts are usually created outside of the contract management platform in a Word document or PDF format. Some contract management solutions allow users to create these documents directly within the system however these are widely based on templates that can restrict customised clauses meaning a company might end up having less legal powers. 
Collaboration is a key element for any contract as the agreement often affects several areas of a business and multiple departments such as finance, legal, procurement, and compliance. having a strategic approach when creating a contract will ensure that all parties are aware of the new legal agreement as well as giving them a chance to influence key clauses in the contract. 
Modern contract management software gives companies the tools to collaborate on the same document at the same time no matter where they're located in the world. They can track the progress of a contract, its expiry date, and documents awaiting approval. Most importantly, they know where the contract and its associated documents are located and that they are accessible at all times. Contract approval workflows also allow users to specify who can approve and sign off documents for a contract and will often leave a footprint of who that person was and the date & time it was approved for audit purposes. 
Negotiation is just as key. Most of the time, the final agreed contract will not be the same version as the first draft created. This is because both parties will want changes on certain clauses or commercials that will benefit them or more importantly decrease legal long-term risk. This is an important stage when it comes to supplier relationship management. Both parties must be happy with the final contract agreements and if they both feel like they're getting a good deal then you are on course for a strong supplier-client relationship.
Contract management software lets companies do this in real-time, online, from any device, and with change tracking & version control. It also saves a lot of paper by saving the need to print, scan, and post the contract after a new version is created. 
Sign
Companies are now able to legally utilise esignitures rather than going down the traditional path of putting pen on paper. 
e-signatures are legally robust in a large number of markets (including the US, the UK, and the EU, Australia, and Japan) however other markets still require a wet signiture. Digital contract systems allow users to find these signed contracts with ease as they are in one secure location.
Track
Whether your contract was created digitally or on traditional paper, scanned and uploaded to your contract management platform, a company will still need to accurately track the obligations and timelines of the agreement to avoid costly renewals and manage risk.
As well as having all of this information at your fingertips, visual analysis is also just as helpful. Companies can utilise user-friendly contract management software dashboards to make smarter decisions about when to renew, what to negotiate on and what key information is missing that a supplier is obligated to provide. 
Renew
As mentioned above, a key advantage of using a contract software is the ability to take a helicopter view of all of your contracts and their current statuses.
Just because a contract has a signiture and an end date does not mean that you as the client will be ommited of any financial risk. Some contracts have auto-renew clauses meaning that if you do not renew and negotiate new commercials for these contracts you will often find yourself paying more for the goods or services provided under this agreement after the contract expiry date. Think of it like a house mortgage. Most mortgages offer you a fixed monthly repayment charge for a number of years and then after this period you will automatically be moved outside of the original agreement and onto a new month repayment charge which will be higher.
Contract management systems can easily monitor each contract as they progress through their lifecycle, with automated contract alerts being delivered to key stakeholders to keep them updated and informed. At the end of the lifecycle, 
Contract lifecycle management software systems will take care of the creation, storage, and collaboration on contracts however as an added bonus they will also manage the life of the contract such as tracking key dates and renewal deadlines giving you peace of mind throughout the entire lifecycle of each document and agreement.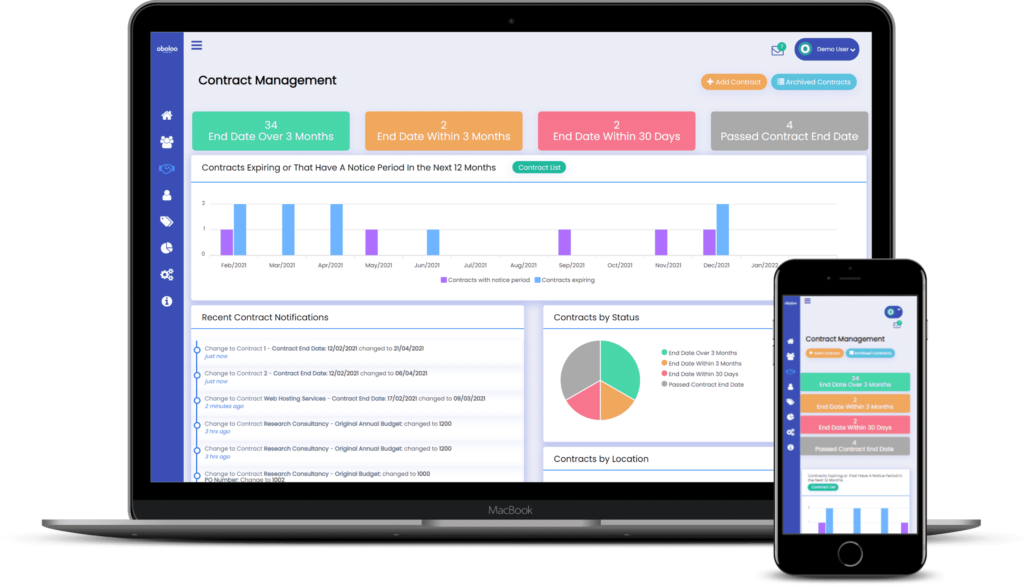 Companies often invest in a contract management software when the volume of contracts they need to process or monitor becomes unmanageable with the resource they have. Even with the resource in place, they might also see the benefits of a contract management system via the analysis and insights they offer which usually results in a reduction of risk and potential savings. 
Therefore consider if a contract management software will firstly save your team time and allow them to focus on other areas as well as measuring the financial risk of your suppliers auto-renewing due to the lack of analysis and automated timeline notifications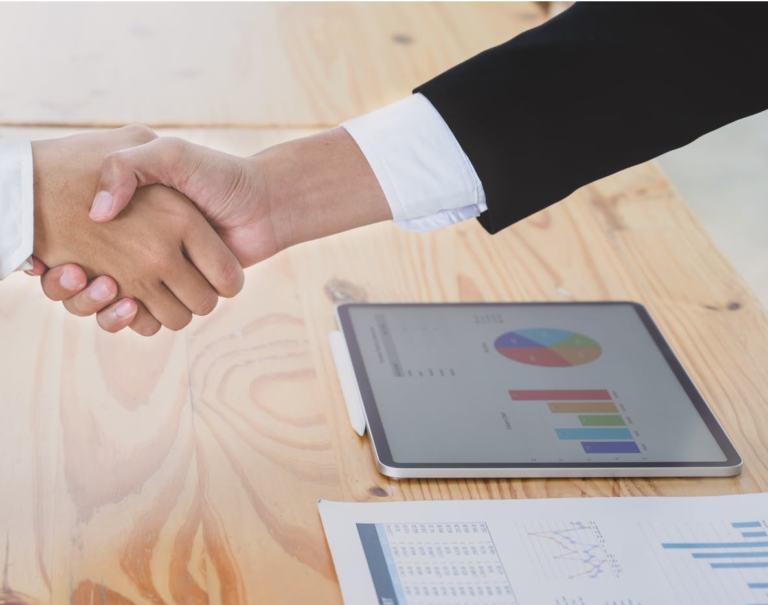 It keeps documents safe and secure
One of the biggest troubles with the traditional management of contracts is that it's heavily reliant on a paper system. While having physical documents is the best for assuring legitimacy, the trouble with these is that it's incredibly prone to damage and loss. No matter how well kept a physical document is, its ink is prone to fading over time—which can be potentially problematic if a lawsuit is asking for your company's documentation!
Through digital contcontract management, you can assure that all documents have back-ups upon back-ups—and there's very little chance of them getting lost! Damage to a digital document, while probable, is highly unlikely to happen, meaning your files will stay safe and intact for years to come.
It promotes easy navigation
The beauty of contract management software is that it's incredibly easy to navigate. As compared to traditional contract management which uses filing systems that require intense planning and organisation, the software will just require you to use a search bar. You won't just get to your file much quicker, but you'll also be assured that it isn't lost!
Even better, you get to track at all times if there are changes or edits made to a document—allowing you to know which is the final revision of a contract! Furthermore, it promotes a secure check-and-balance system that avoids others from tampering with a document.
It allows remote access
Contract management software is now accessible anywhere and, on any device, for as long as you have a smartphone, tablet, or laptop. Simply log-in with your credentials, and you can pull up a contract or document from anywhere in the world! This makes things much easier, especially if you're someone constantly on-the-go that can't waste time going back and forth to the office.
It provides digital automation
The best thing about contract management software is that it provides a way to automate certain processes. You can create custom e-mail notifications to alert you when a contract is due or send prompts to a relevant figure when their signature is needed. Proper use of this can easily make the entire process more efficient—which is why it's worthwhile to invest in a decent contract management software.
Try oboloo's eSouricng Software Free For 30 Days
No credit card required. No contracts to cancel. No set up fees. No hidden costs. No downloads